Give your ceremony that something special with
Live Acoustic Music.
Call for more info!
518-664-8310
Acoustic Guitar
Male and Female vocals
Pre-Ceremony
Ceremony
Ceremony includes:
~ Your choice of live music, pre-recorded music or a mix of both.
~sound system set up
~wireless mic for your officiant
       ~wireless mic for your readers
...They played acoustically at my ceremony and DJ for the reception. Their sound is incredible. I was blown away....
Libby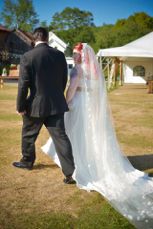 Acoustic ceremony music @SaratogaSound
Hi Karen,
Scott and I cannot thank you and Paul enough, everything was perfect. We loved every single song and danced the whole entire time. The music before and during the ceremony was beautiful and we received so many compliments on your performance. I work in the music department at advertising agency and my boss was at the wedding. He has been in the music industry for years and years and he and his wife were especially complimentary of your performance! We loved it, everyone loved it.
The night was just so much fun and that wouldn't have been possible without you.
Thank you for the most amazing day & night!
Kate & Scott
Burlap and Beams